I decided to take
Natalie
up on her
challenge
- posting pictures of books I am currently reading and those I want to read. Oh, and I could mention that the want-to-read pile could, potentially reach to the ceiling - only I don't exactly
own
all of those want-to-read books to take a picture of... Not to mention that it would get tedious reading all of those titles in a pic where the books reached the ceiling...
Without further digression, here are my pics!
"Here's what I am reading"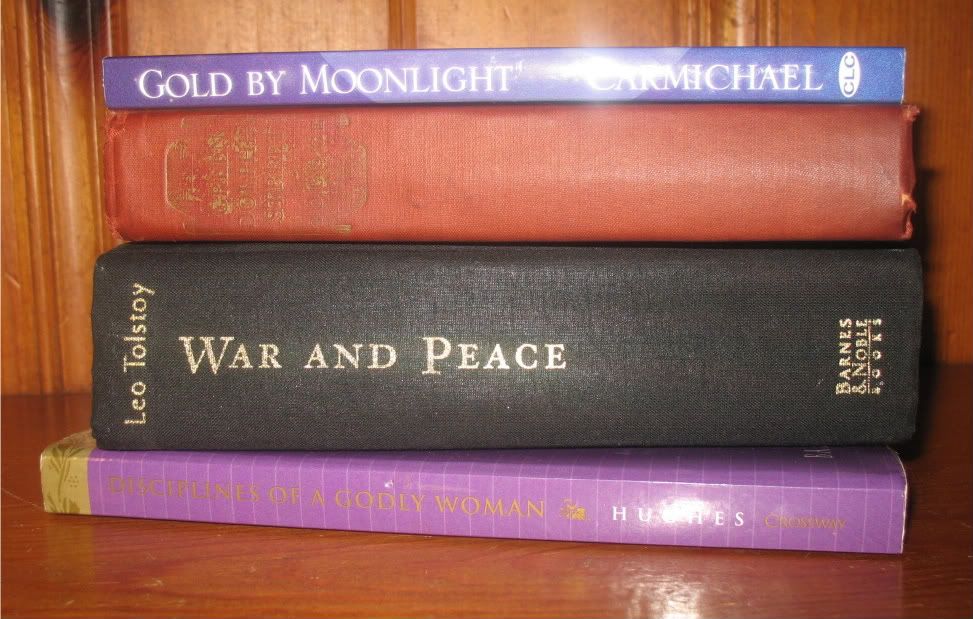 The titles aren't all that easy to read in the picture; on the top is Gold by Moonlight by Amy Carmichael. This is one that I pick up when I need something quiet and comforting. A friend gave it to me years ago, and it's one of those books that you do not necessarily read all at once, but when you are in the mood for it. Written for "fellow toads under the harrow" this book has uplifting thoughts for painful times.
Next in the pile is Green Dolphin Street by Elizabeth Goudge. I love Elizabeth Goudge's characters, storylines, wording, setting, just about every aspect of her books. She has a lovely way with words, and I tend to keep a blank notebook by me when I am reading to jot down random quotes that grab me. So far this one has a bit of a frustrating plot - it is about two sisters with the same dream - and the scheming, manipulative sister appears to win over the sweet, noncompetitive one. Or, does she really? I'm waiting to discover how this book ends... As usual Elizabeth Goudge has some telling observations about human nature.
Next is War and Peace by Tolstoy. It sounds like a challenge but so far it really is a fairly easy read, my only trouble is keeping the numerous characters straight! During my winter break from school last year I read Anna Karenina in a couple of weeks, which is also by Tolstoy and comparable in length to War and Peace. Anna Karenina inspired my interest in Russian literature, which I had read little of previously. I'm still hoping to finish War and Peace on this winter break.
On the bottom is Disciplines of the Godly Woman by Barbara Hughes. This one is a reread that I have picked up on and off again since I was a teenager. It is divided into chapters such as "The Discipline of Prayer," "The Discipline of Submission," "The Discipline of Perseverance," and others, - all important characteristics to develop in the continual strive to be perfect; like our Father in heaven.

On the top is Mr. Jones, Meet the Master, which is a collection of Peter Marshall's sermons compiled after his death by his wife, Catherine Marshall. I read A Man Called Peter twice, and was drawn into the life story of this sincere and dedicated Scottish pastor. I have read other works by Catherine Marshall, such as Christy, Julie, and To Live Again, and love her books. I'm looking forward to reading this one, but will probably not read it all at once. I'm guessing I will read it like I read most devotional type books, here and there when the mood strikes me - with notebook and pen handy.

The Child from the Sea is another Elizabeth Goudge book, and one of the few left that I have not read.
Breaking free is by Beth Moore. I did one of her studies as a teenager, and the only other of her books I have read since is Praying God's Word. She seems to be good at identifying common footholds that Satan may have in a person's thought life, and directing thoughts to scripture to overcome those footholds, or "strongholds," as Beth Moore puts it.
The Brothers Karamazov by Fyodor Dostoevsky is one that I picked up last winter break and did not finish. I am going to have to begin again from the beginning in order to follow the plot and characters. As I remember, the book was thought provoking in how it portrayed human nature - even though I did not agree with all of Fyodor Dostoevsky's views. Still, it makes you think.
So - now that I have photo documentation I must follow up and finish! This winter break I have been sick more than I would have liked, still it's a mixed blessing because lack of energy to leave the house means there is more quiet time to read...
Well, that's my list. :) I'm interested in picking up some more ideas from other readers to add to my could-reach-the-ceiling pile of want-to-reads... ;)